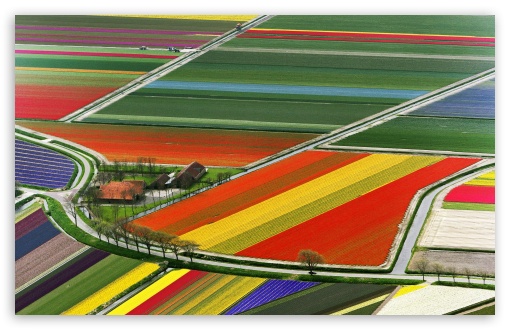 View of Tulip flower fields
Amazing view of flowers
Colourful flowers
Location : Keukenhof, Lisse, Holland.
Keukenhof is an unforgettable experience for people of all ages. The historic park with more than 2700 trees covers an area of thirty-two hectares, full of tulips, hyacinths, daffodils and all the other spring bulbs. The floral displays in the park and the unique flower shows in the various pavilions are a glorious visual feast. The world famous Keukenhof Gardens in Lisse are opened from mid-March until mid-May.
The striking colors of the flowering tulip bulbs are a typical sight in Holland during the spring. The bright red, pink and yellow colors are overwhelmingly beautiful and are the tourists must see and must experience it. The season is f
rom the end of March until the second week of May the flowers in the bulb fields bloom. It goes without saying that the exact period depends on the weather. Generally speaking, the best time is the second half of April.
At the end of March the crocus season starts. The daffodils and early and small tulips are next, from the beginning of April. From mid-April the daffodils and the hyacinths bloom. Finally, from mid April until the first week in May the tulips show off their glorious colors.
The millions of bicycles in Holland are another trademark. Therefore, what better way to enjoy the lovely fragrances, the local culture and being part of this colorful landscape than to cycle through it? While marveling at the unique views, the winding routes through the fields take you from the historic town of Leiden to the beautiful city of Haarlem. A visit to the world-famous Keukenhof will give you plenty opportunities to take that beautiful shot.